Enloe Dam Website Contents -

- News


- Courtroom Updates (PCHB April 16-19, 2013)

Links -

-  American Whitewater Similkameen River

-  Columbia River Bioregional Education Project

Contacts -

-  Rachael Paschal Osborn, Center for Environmental Law & Policy

-  Jere Gillespie, Columbia Bioregional Education Project

-  Rich Bowers, Hydropower Reform Coalition

-  Thomas O'Keefe, American Whitewater

Project History

The Enloe Dam obstructs the Similkameen River just upriver from the confluence with the Okanogan River.  In dimensions, the concrete dam is 54 feet high, arching 276 feet across the river.  The reservoir -- now mostly filled with over 2 million cubic yards of sediment -- is 2 miles long, 200 feet wide, and about 9 feet deep.  The dam can be accessed by driving upriver from Oroville on County Road 9425, or from Canada through the border crossing at Chopaka.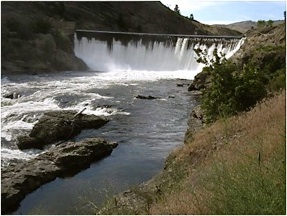 Enloe Dam, Similkameen Falls.
(photo - Okanogan PUD)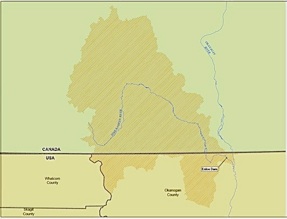 The Similkameen River
drains the east slope of the Cascade Mountains.  Most of the 3,600 square mile watershed -- 90 percent -- is in Canada. The Enloe Dam plugs the Similkameen River near its confluence with the Okanogan River.
    Click on map to enlarge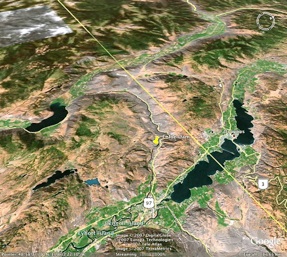 Enloe Dam and Similkameen River
(center), confluence with Okanogan River (right) at Oroville, WA.  Yellow line is the international boundary.
Click on map to enlarge
Construction of Enloe Dam was completed in 1920 by Eugene Enloe to provide power for mines near the community of Nighthawk.  Washington Waterpower purchased the dam, and in 1942 sold it to the Okanogan Public Utility District (PUD).

In 1956, the Federal Power Commission (FERC 's predecessor agency) issued a license to the PUD for the project. In 1959, the PUD ceased operation of the project because the generating equipment had become obsolete and the dam could not compete with less costly power sold by the Bonneville Power Agency.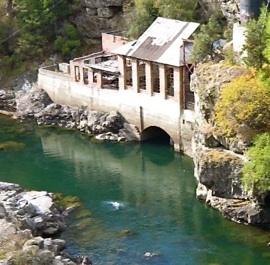 Salmon blocked by Enloe Dam.

In 1981,the PUD filed a new FERC application to license a project at Enloe Dam, then referred to as the Enloe Project (Project No. 2062). FERC issued the license in 1983. Three years later FERC rescinded the new license on the grounds that anadromous fishery issues had to be resolved before a licensing decision could be made.

In 1991, the PUD filed a second application.  In 1996 FERC granted a license for a 4.1 megawatt project.  At the PUD's request, FERC stayed the license and, in 2000, rescinded it.  Ongoing uncertainty and disagreements over upstream anadromous fish passage explain FERC's rescinding licenses in 1986 and 2000.

In 2005 the PUD received a permit from FERC that gave it priority in seeking a license at Enloe Dam.

Sources: